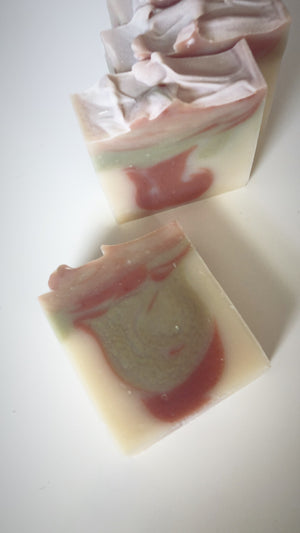 Frankincense & Myrrh
Frankincense and myrrh are both resins extracted from trees in the Burseraceae family, also known as the torchwood or incense family. Frankincense comes from the dried sap of Boswellia trees, while myrrh comes from the lifeblood of the Commiphora.
Frankincense and myrrh were extremely expensive resins which were used as both medicine, and as Holy anointing oils.  Myrrh is mentioned more in the Bible than any other aromatic essential oil.  The wise men brought gifts to the baby Jesus which were considered Gifts Fit For a King. 
This Frankincense & Myrrh soap has spicy notes of musk & wood, with a rich combination of olibanum, myrrh, patchouli, herbaceous woodsy pine, sheer musk, vanilla, and floral lilac notes.

Ingredients: Olive Oil, Coconut Oil, Responsibility Sourced Palm Oil, Sweet Almond Oil, Castor Seed Oil, Distilled Water, Aloe Vera, sodium Hydroxide (Lye), Essential oil.
*As always, this product is Paraben & Phthalate Free and is not on the CA Prop 65 list of toxic chemicals.