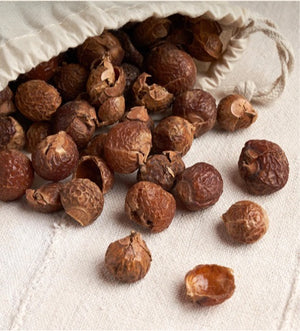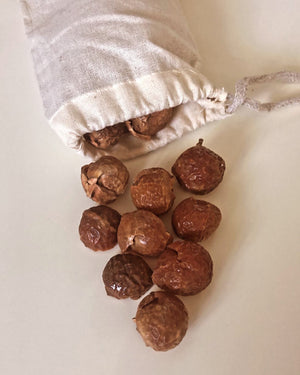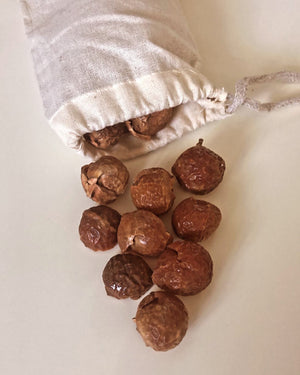 Soap Nuts
Native to India and Nepal, Soap Nuts have recently become a popular environmentally friendly alternative to chemical detergent, and are a gentle option for those with allergies to chemicals in regular detergents. They have traditionally been used as an expectorant, and in Ayurvedic medicine as a treatment for eczema and psoriasis. Soap nuts contain saponins, a natural detergent. The soap nut shell absorbs water and releases the saponins which circulate as a natural surfactant in the wash water, freeing dirt, grime, and oils from clothing.

How to use:

Put 4-6 Soap Nuts in the muslin bag provided, tie closed and place in the washing machine. Wash as usual with cold, warm or hot water. At the end of the wash cycle, remove the muslin bag of soap nuts from washer and set aside. Allow to dry or if needed, wash another load.
 You can use new soap nuts for up to 10 washes or until they start to become soft and grey/disintegrate.
 When soap nuts look dried out or are disintegrating, empty muslin bag and use soap nuts in garden compost.
*Soap nuts are gentle and hypoallergenic.
This makes them ideal for young children, pets, and anyone who is sensitive to chemical additives.
*You will receive 4oz. of soap nuts (great for traveling), in a high quality muslin bag.
Your order will be shipped in plastic free packaging.